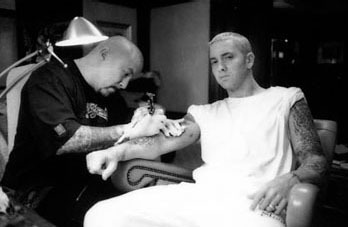 Pictures and detailed information about every single Eminem tattoo, including his latest ones. Not all tattoos were done by the same artist, but to the best of our knowledge, the larger ones, such as the uncle Ronnie and Hailie Jade portraits, were done by the tattoo artist Mister Cartoon.
Most of the tattoos hold a special place in Eminem's heart, so continue reading to find out more.
EMINEM TATTOO: Rot in Pieces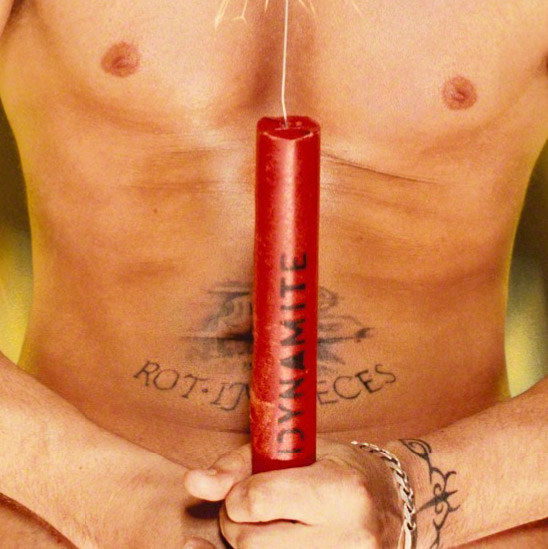 Abdomen/Stomach Tattoo : "Rot in Pieces"
This tattoo is aimed at Eminem's (divorced) wife Kim Scott. he had it done one night after a fight with Kim, assuming he would never get back together with her. It shows a picture of an open grave on his belly with the words "Rot in Pieces" below.
EMINEM'S TATTOO: D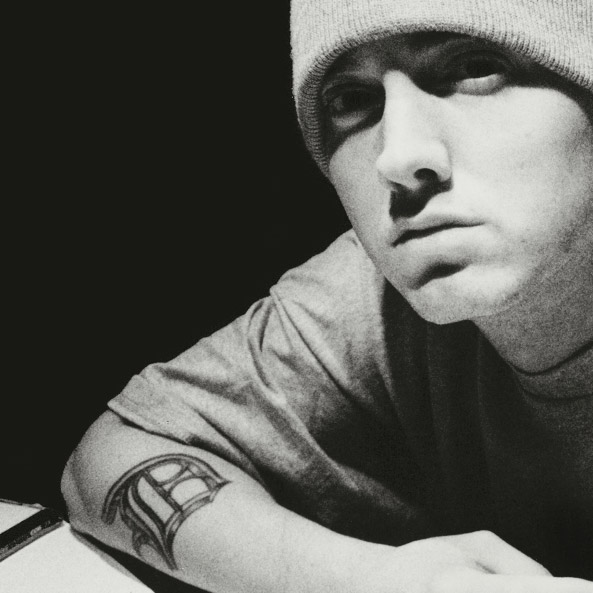 Right Forearm Tattoo : "D"
This tattoo is the first part of the D12 logo which Em has tattooed across each lower arm.

There is also a tattoo below this saying "Slit Me".
EMINEM'S TATTOO: 12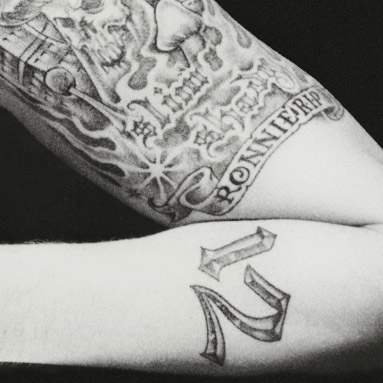 Left Forearm Tattoo : "12"
This is the second part of the above tattoo.

Below the "12" there is also a gothic/tribal style bracelet on his wrist which Eminem had done whilst drunk.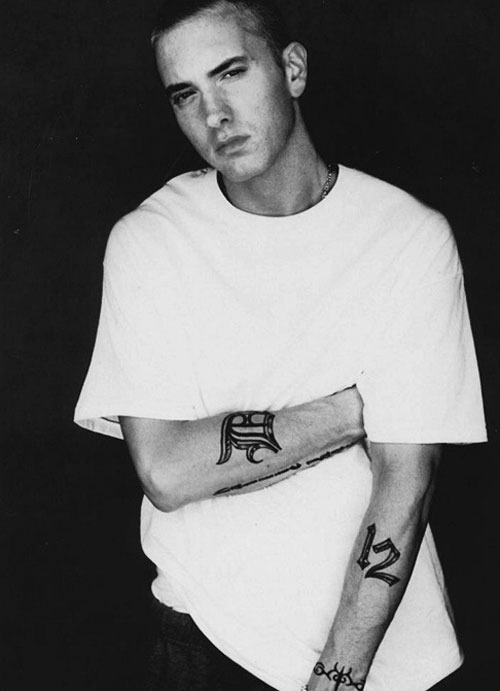 EMINEM'S TATTO: Hailie Jade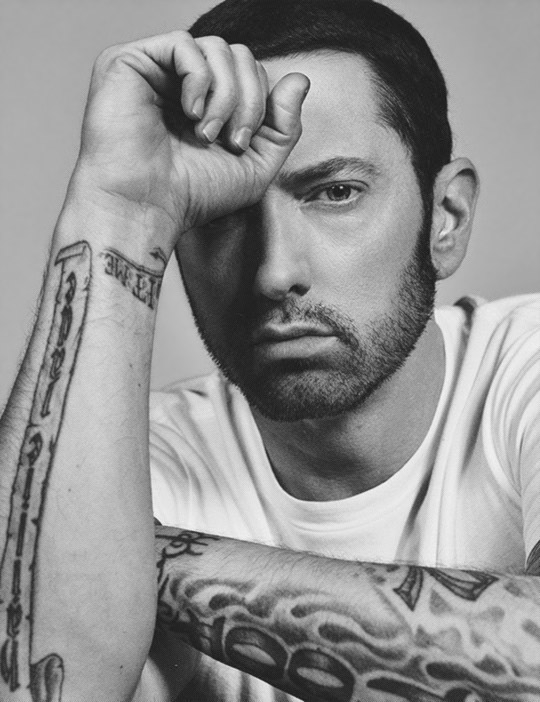 Right Forearm Backside Tattoo : "Hailie Jade"
Eminem got this tattoo done when his baby girl was born on Christmas day 1995.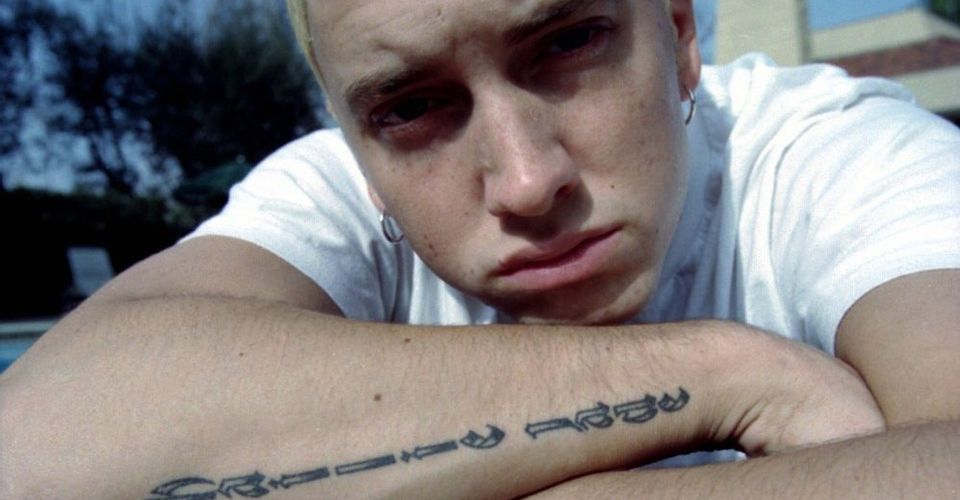 EMINEM'S TATTOO: Proof
Left Forearm Backside Tattoo : "Proof"
Eminem's tattoo inside the left forearm in memory of his late best friend and fellow rapper, DeShaun Dupree Holton aka Proof of D12, who was tragically shot dead in 2006, and had a tattoo exactly the same. The two first met in 1988 and have been best friends ever since. When Proof died Eminem was devastated, the tattoo represents his love for him.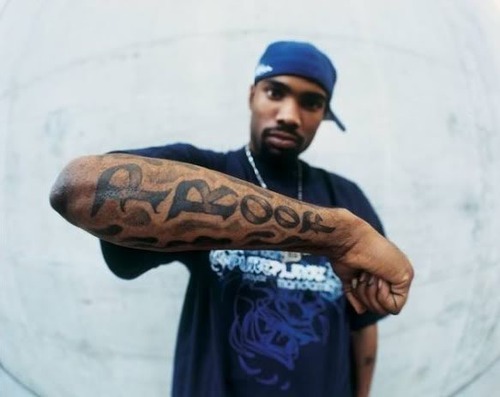 EMINEM'S TATTOO: Slit Me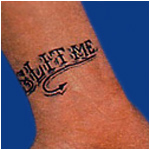 Right Wrist Tattoo : "Slit me"
The words "Slit Me" on the inside of the right wrist – likely a literal reference to the suicidal tendencies he had experienced at certain point of his life. Luckily, he found his way out of the dark place he was once in, and the rest is history.

We could not find a better photo so far. If anybody has one, please let us know as we would love to update it.
EMINEM'S TATTOO: Tribal Tattoo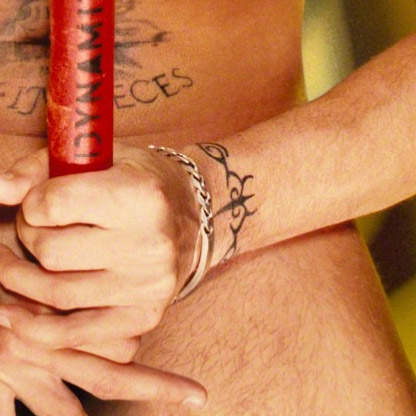 Left Wrist Tattoo : Tribal bracelet tattoo
A tribal tattoo around his left wrist – Eminem claims he does not remember the meaning of this tattoo, implying that he was not in his right senses when he got it done.
EMINEM'S TATTOO: Uncle Ronnie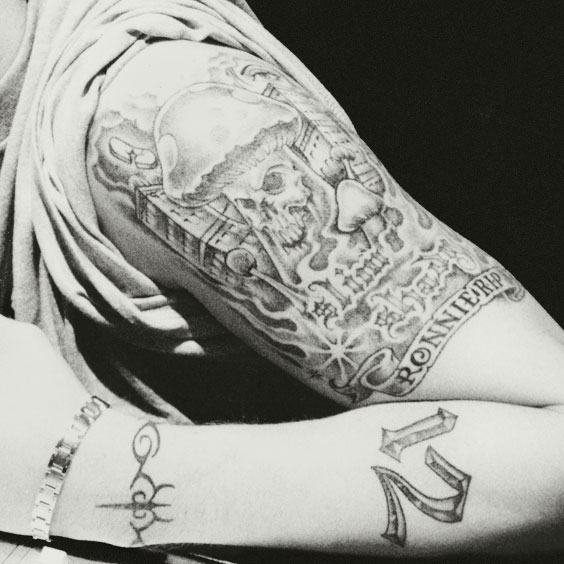 Upper Left Arm Tattoo : "Ronnie RIP" in memory of his uncle Ronnie
Eminem got this tattoo as a mark of respect for his uncle, Ronnie Pilkington, who committed suicide back in 1991. Eminem was much closer to his uncle Ronnie, who first introduced him to hip hop, than anyone else in his family, and often includes him in his lyrics.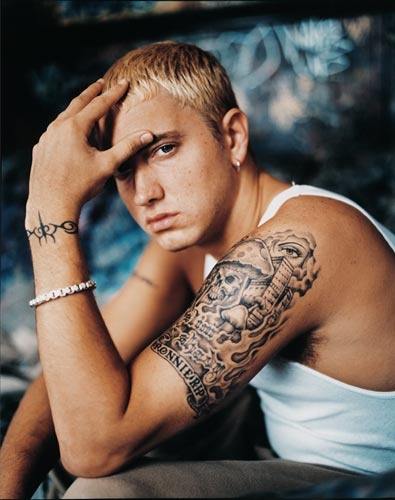 EMINEM'S TATTOO: Hailie Jade + Bonnie & Clyde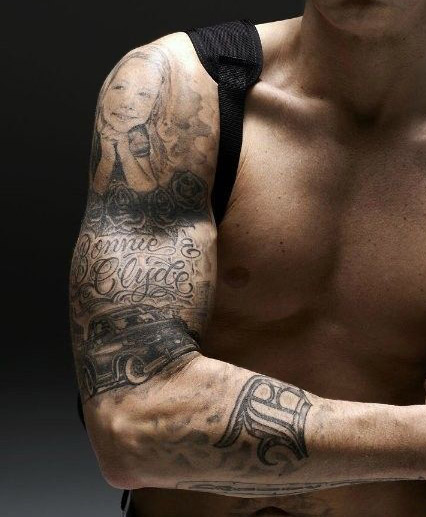 Upper Right Arm Tattoo : Image of Hailie Jade
This tattoo is a portrait of Eminem's daughter, Hailie Jade, with some roses around her. It also has the words "Bonnie & Clyde", which was also a song on The Slim Shady LP, and which was also dedicated to his daughter.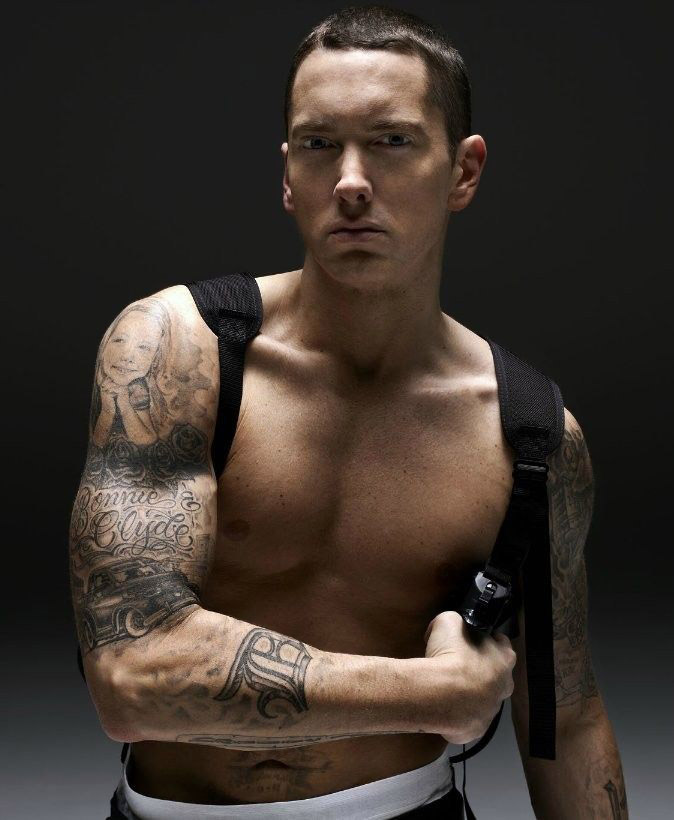 Mister Cartoon on Tattooing Eminem
Mister Cartoon talked to No Jumper about the life changing experience of tattooing Eminem: "He was a phenom rapper. I seen him perform before I even knew who he was. It was at one of Bigga B's events downtown. Em walked to the stage and the whole crowd was like boo. People were not hyped. And then five minutes of him rapping the place was quiet as fuck."
"I ended up meeting him through Cypress Hill… Once I tattooed him, I no longer needed a portfolio. He was on so many covers of magazines with those tattoos. Little by little he would come and get more. I was like, you know I'm doing your daughter's portrait, holmes, no pressure, shit!"
Listen to the interview below: