This is a list of videos, movies and other video related media released or featured by Eminem, in chronological order.
8 Mile
Synopsis: In the film, Jimmy Smith, Jr. (Eminem) is stuck at the wrong end of that road and can barely get from his mom's trailer to his factory job, let alone out of town. Sometimes Jimmy thinks 8 Mile will kill him, but the raw pain of being there can also lead him to a place inside himself where he calls the shots – through his music.
Quotes: "Eminem is delivering a powerful, honest, mature performance in 8 Mile. "He is bringing the same intensity to acting as he devotes to his music." – Producer Brian Grazer
"The people in Detroit know 8 Mile as the city limit, a border, a boundary. But there is a dividing line that separates each of us from where we want to be and who we want to be. We all have our own 8 Mile." – Director Curtis Hanson
Cast: Eminem, Kim Basinger, Brittany Murphy, Mekhi Phifer, Eugene Byrd, Taryn Manning
Director: Curtis Hanson
Screenwriter: Scott Silver
Producers: Brian gazer, Curtis Hanson, Jimmy Lovine
Eminem – All Access Europe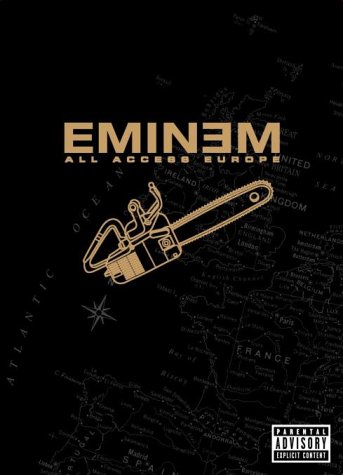 All Access Europe is a film of Eminem's 2002 European concert tour which took him to towns including Oslo Hamburg Manchester and Paris. Armed with his chainsaw Eminem performs stirring renditions of hits like Stan The Way I Am and Purple Pills.
All Access Europe:
Hamburg, Germany
Oslo, Norway
Stockholm, Sweden
Amsterdam, Holland
Brussels, Belgium
Paris, France
Manchester, United Kingdom
London, United Kingdom
Featuring Live Versions Of:
The Way I Am – with Marilyn Manson
Bitch Please II – with Xzibit
Stan – with Dido
Eminem – The Slim Shady Show
A take-off on the character that is Eminem's alter ego this animated spoof is hilariously saucy. Animated for adults THE SLIM SHADY SHOW follows the antics of the tough-talking trouble making homeboy with a talent for rhymes and a love of ladies! He is joined in his misadventures by his Aunt Sue his best friend Marshall and several other wacky cohorts. Plus see behind the scenes footage from concert tours interviews and music videos from the zany world of Slim Shady.
Eminem – E
This has all of Eminems (uncensored) videos from The Slim Shady LP and The Marshall Mathers LP with the likes of The Real Slim Shady and My Name Is on it.
Eminem – The Up In Smoke Tour
This has exclusive footage from The Up In Smoke Tour, with artists such as Eminem, Dre, Snoop, Ice Cube, D12, Xzibit and Warren G performing. It also has a few skits.