Looking for games with Eminem as the main character, or just short computer games to play when you're bored? Then keep reading. Also, if you know of any that haven't already been published here, feel free to let us know. Fan made short Eminem games coming soon.
D12 Pacman
D12 Pacman, a fan made mini game by Eddo's World back in 2001 that still works on Windows 10 in 2022. It's not pretty, it's definitely not 2022, but is fun enough to waste a few moments on if you're bored and like Pacman. Comes with a leaderboard so you can even compete with your friends 😉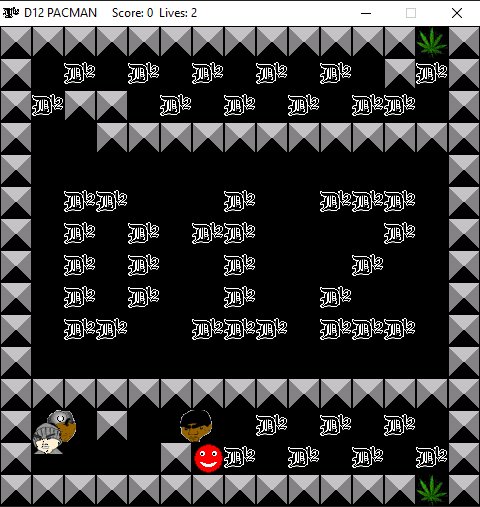 50 Cent: Bulletproof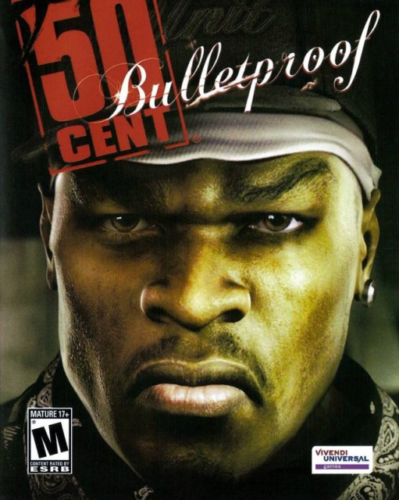 Eminem worked alongside 50 Cent on the 50 Cent: Bulletproof game, released November 17, 2005 for PS2, XBOX and PSP.
Eminem was only meant to supply an idea and an overall tone for the crooked officer character in the game, but after sending in a voice sample, the studio decided that he should voice act the crooked officer himself. The game includes a soundtrack of thirteen 50 Cent songs, while Eminem's music is also available as an "unlockable" in the game.
From the back of the box:
After getting shot nine times and left for dead, 50 climbs from the jaws of death to exact revenge on his enemies. Working with his G-Unit soldiers – Lloyd Banks, Young Buck, and Tony Yayo – 50 takes on the most powerful gangs and crime syndicates in the city, uncovering a criminal conspiracy with international implications. This gritty urban action game, written by Terry Winter, Emmy Award-winning Executive Producer of The Sopranos, also stars Eminem as Detective McVicar and Dr. Dre as street-wise war veteran, Grizz.
Take down enemies with over 25 dramatic counter-kill moves
Clip up with a massive stash of weapons, from heaters to launchers
Grab enemies as shields, extract information and steal their valuables
Use strategic tactics, evasive rolls and mobile cover to stay alive while the bullets fly
Enemy AI that hunts, covers, flanks, works in teams and strategically navigates the environment
4 CDs worth of 50 Cent and G-Unit music including NEW EXCLUSIVE TRACKS AND REMIXES FROM 50
Over a dozen 50 Cent and G-Unit music videos
Create custom music playlists, watch music videos, and rock the exclusive soundtrack from Sha Money XL
Quake III: Arena – Dr. Dre & Eminem Level and Models

Back in 2000, Interscope Records released an official custom made Dr. Dre and Eminem Quake III Arena level and playable Eminem and Dr. Dre models in promotion of Dr. Dre album "2001". The level itself was called "Chronic", after his previous album from 1992.
"Download "Chronic" The New Dr. Dre and Eminem Quake Level!" said the promotion on Interscope's webpage at the time.
REQUIREMENT: Must have Quake III Arena installed to play the Chronic level
PLAYERS: 2-12
LEVEL TYPE: deathmatch
TECH REQUIRMENTS: P2 400 or higher, TNT2 vid card or better (😂)
TEXTURES: all new textures and shaders

From Interscope's old download page that has since been removed
Interscope has since taken it down. It's an old game and it's been over two decades since they've released the map and the models, but here are a few nostalgic screenshots from the game.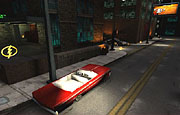 We will make sure to upload the level and the models to this page if we find them.
Other Eminem Games
Other than this, Eminem has not starred in any other games, other than providing music and consultancy for DJ Hero.
Our Eminem games section will be updated should we hear of another Eminem related game.