Source: Daily Mirror
Date: 2003
It's a terrible irony for a man who made his reputation by being foul-mouthed, angry and offensive to as many people as possible. Rapper Eminem once thrived on his notoriety but now finds himself being held up as a shining example to American youth.
If that wasn't enough, the 30-year-old former rebel is being tipped for an Oscar for his acting debut in the gritty 8 Mile, which opens in Britain on Friday. The semi-autobiographical film, which co-stars Kim Basinger, took $55 million on its opening weekend in America and the soundtrack album went straight to No.1.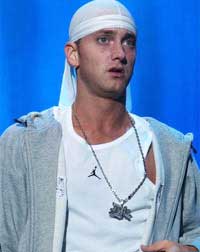 When asked to explain his transition from white trash hero to national icon, Eminem – real name Marshall Mathers III – shrugs and says he was never really understood in the first place.
"They portrayed me as a vicious, vile, evil person," he says. "But I wouldn't have got anywhere in this business if I was just a complete a**hole."
It seems that the raging star – who had vowed to urinate on the White House lawns – was actually satirising those who point accusing fingers at rap culture and warn of the copycat behaviour it incites.
His lyrics put it better: "It's all political, if my music is literal/and I'm a criminal/how the f**k can I raise a little girl?/I couldn't, I wouldn't be fit to…"
The little girl he refers to is his six-year-old daughter Hailie, the only thing apart from his music that makes Eminem's blue eyes light up.
"She is a character," he says proudly, "she has such a personality. She runs around making up little sayings and phrases…"
Eminem admits "having a soft spot for kids, with my own being number one on my list. She's growing up and I'm trying to set an example for her."
The doting dad also confirms that he has changed a lot since he launched himself into the mainstream two years ago.
"Fame hit me like a ton of bricks," he explains. "I was pulled in every direction. I got caught up in the drinking and the drugs, the fighting and just wilding out.
"I'm proud of myself for pulling through all that and my criminal cases, my divorce. If I was still on drugs and living the life I lived three years ago, I'd be a failure."
AND there are other signs that the bad boy is becoming a good man – he is considering a reconciliation with ex-wife Kim.
The tempestuous pair, together for 15 years, split in June 2000 after Kim's flirtations with another man provoked Eminem into brawling and brandishing a gun. He received two years probation.
The couple divorced in October 2001, weeks after Kim gave birth to a daughter fathered by another man. But Eminem is thinking of having his tattoo, "Kim: Rot in Hell", removed – another sign that he has mellowed.
He had a lot to get over after a working-class upbringing that was unquestionably tough.
The only child of a teenage bride, whose husband abandoned them when he was 18 months old, he and his mother Debbie "kept getting kicked out of every house we were in".
When he was 12, mother and son finally settled in a small house on Eight Mile Road – the dividing line between Detroit's black and white communities which he has now captured on film. "It's the borderline," he explains, "It wasn't like rich or poor on either side.
"Both sides had the same income but it was black on one side, white on the other. And me growing up on both sides."
After years of being bullied in school, he found a kindred spirit in classmate Kim Scott and renamed himself Eminem (after his initials).
Her family was as troubled as his and she moved in with the Mathers when she was 13. But after five turbulent years under the same roof, Debbie had had enough. When she insisted that Kim move out, Eminem went with her.
Working as a dishwasher and cleaner by day, he spent his nights trying to break into Detroit's hip-hop scene.
The film 8 Mile describes a week in the life of Jimmy "Rabbit" Smith Jr, who lives with his mother and sister in a depressing trailer park.
But unlike Eminem, who has feuded with his mother for years, Jimmy has a loving relationship with his alcoholic mother. The star is passionate about the story. "The movie is about Jimmy coming out of his shell and finding his own way, not being a follower, being a leader.
"He's going through struggles with his family but he wants to make it and be a rapper."
Eminem's film has also rekindled curiosity about his relationship with mother, Debbie.
The inflammatory lyrics on his 1999 debut, The Slim Shady LP, prompted an $11million defamation suit by Debbie, who eventually settled for $25,000. And she is unlikely to be impressed by Basinger's alcoholic character. She recently dismissed the film, saying: "I don't care about the drug-crazed mother in 8 Mile.
"It's a fictional story and I'm not even going to see it."
Eminem says of his mother in the film: "Jimmy's embarrassed by her. He's ashamed at what she is and doesn't want to become that.
"He doesn't want to fall into that same hole. He wants to be able to pull himself out of that, pull his little sister out of it and maybe, eventually, pull his mother out of it, too."
His commitment to the project isn't a great surprise.
After all, he struggled against the odds for seven years to become a respected artist, until a second-place finish at the 1997 Rap Olympics in LA got him a record deal.
Top producer Dr Dre signed him, groomed him and wised him up the business. He may have failed the 9th grade three times before dropping out of school but Eminem has become a shrewd operator.
For his film debut, he surrounded himself with the same kind of top talent that has made him the best-selling rap artist.
8 Mile is directed by Oscar winner Curtis Hanson, the man behind LA Confidential and Wonder Boys, and produced by Oscar-winner Brian Grazer, whose credits include A Beautiful Mind.
Hanson described Eminem as a natural movie star and spent an unheard-of six weeks rehearsing with him before shooting the film in Detroit.
He believed his star would shine in his hometown and he filled most of the support roles with Detroit natives.
The street where Eminem spent his teen years is lined with bars, repair shops and trailer parks and Hanson likened Eminem to "a flower struggling through a crack in the cement".
Others say he has more in common with a young Elvis – both popularised a black musical style and then set out to conquer Hollywood.
Both had teenage brides and daughters they adored. Both also struggled to overcome addictions.
But Eminem disagrees, pointing out that he sings songs he has written, is in charge of his own career, and, unlike Elvis, will now remain clean and sober.
He also never contemplated starring on screen. "My only scheme was to be a rapper," he says. "My dream was like, let me get a record deal, let me go gold and I'll be happy. Let me make a living off what I do.
"But in 2000, people were offering me roles and I thought it was something I might want to dabble in. But I was doing the music so much, I thought I'd do films later."
He was even reluctant to read the script for 8 Mile. "Well, reading is the worst thing in the world for me to do. I hate it. But I read the first couple of pages and couldn't stop.
"The positive aspect of the movie is that no matter where you come from, you can break out of it if your mentality and drive is right.
"You can make something of your life. It just depends on your drive. Breaking out is the point of the film."
Having broken out of his own 8 Mile, Eminem is pondering what to do next. "I need drama in my life to keep making music," he says.
"I want to solidify as an artist and show that as I grow as a person and make mistakes and learn from them, I'm going to grow artistically.