Source: BBC Radio 1
Date: May 14, 2002
BBC's Sara Cox and Tim Westwood caught up with Eminem in New York.
Original audio link is unfortunately not working anymore, but here are a few excerpts from the interview in question: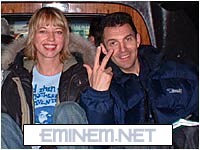 On rhyming…
To touch the average listener you have to use words that touch emotion. The average listener doesn't catch rhyme for rhyme and syllable for
syllable.
People think that it's so easy to write a rhyme or song with a catchy hook, but it's not simple. If it was the whole world would be doing it. I believe that this album will show who my true fans are, and show the people who bought my last album for Stan and the Real Slim Shady.
'Sometimes I wonder if I need drama in my life to make songs…'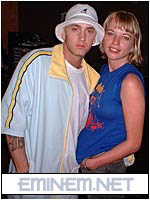 On writing…
I can start from anything… Sometimes they'll either hit a note that will trigger a note or I'll like start a rhyme. Dre is best at seeing a vision of where the rhyme will go.
On the album…
Hopefully I gave Dre a break from trying to be so first hand with my stuff. He lets me do what I want to do. Nothing I do is dope. Everything I do is not wicked and Dre will tell me. He won't sugar coat it. His honesty is one thing that I've appreciated the most, ever since he signed me.
'If I don't show on this album that I'm a true MC then I'm quitting'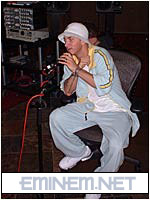 About his film, '8 Mile'…
I always wanted to dabble but as far as taking it on first hand, it had to be a really good script. The movie is so like my life, neck and neck almost. There are differences. The script was dope enough to put my career on hold for three months… When I start slowing down with the music then maybe (I'll move into acting)… I don't think I'll ever be done with the music. This movie was like acting boot camp.
On Dre being goofy in the video…
It depends what the song calls for. Dre has a lot of party songs but they are not a call to be goofy. A lot of my songs are risqué – I've been able to maintain, so far, the borderline between being cheesy and having fun and be able to come back with a serious song. There are happy sides to me just like anybody. Different moods, whatever, and that's what I try to portray.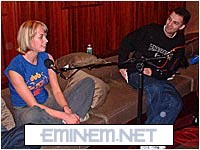 'Hailies Song' has Eminem singing for the first time on a record – so Sara asked him, what was that like?
Weird. I first wrote it I made it to keep in the vault for Hayley to hear when she got older and was able to understand it. When I played it for people they started liking it, so I was like 'okay'. I was a little embarrassed about putting it out at first. I'm never gonna hold back on expressing my love for my daughter. There's nothing that can strip that.
She knows (what I do) to some extent. I can't imagine what a 6-year-old must think… I know that she is getting some type of grasp for her father being on TV. Nobody elses dad is on TV. It must be a little head trip for her… She's obviously the most important thing to me. She's so beautiful and so smart.
On techno…
I hate techno music so no matter how good Moby is that's not gonna change.
I hate techno music. Can I just state that for the record. I don't care who gets mad at me. I'm sorry but I just can't stand it.
On Staying straight…
I thought it would (affect my music) but there was a time when I thought weed and certain other drugs enhanced my writing but I learned that I can do it without. Everything that happened to me might have been a blessing in disguise.
Eminem Answers your questions…
Unfortunately you can no longer listen to this part, since BBC has removed the audio files.