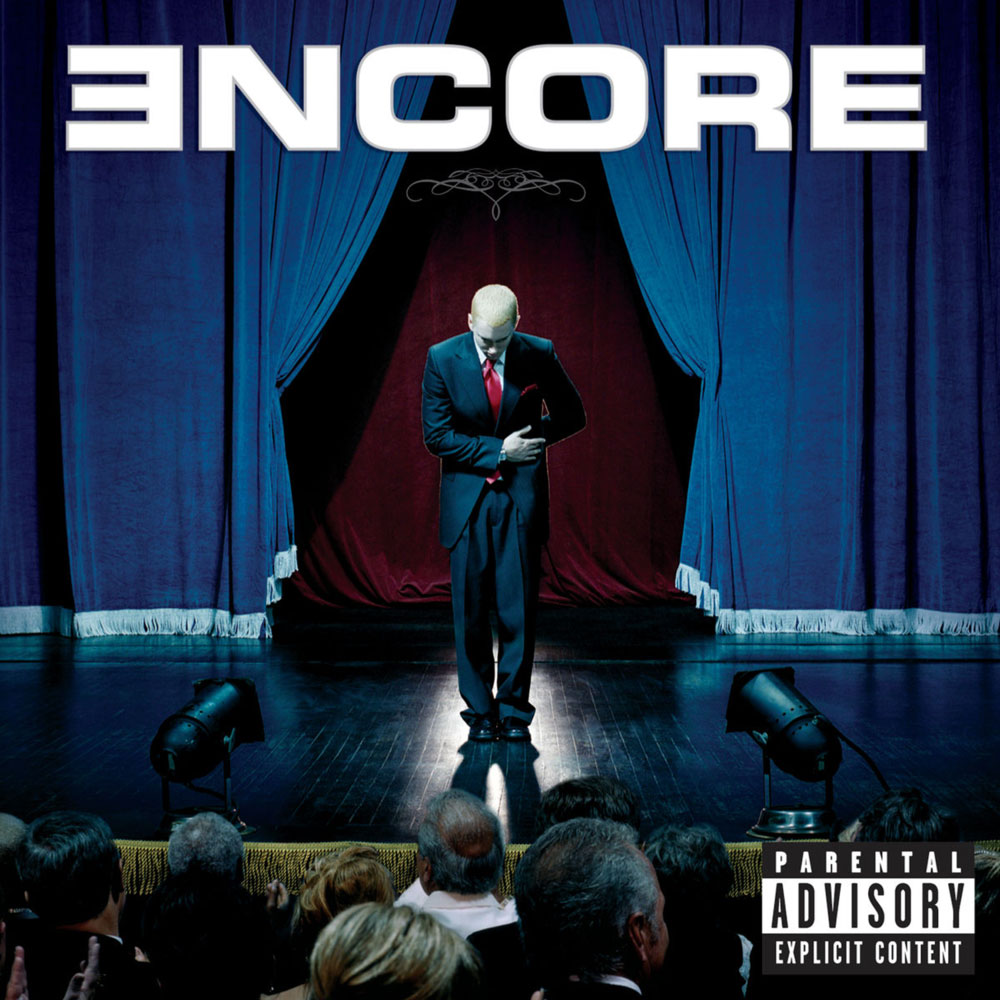 Encore, the fourth studio album (fifth album) by Eminem, hit the stores on November 12th, 2004.
The highly anticipated new album features appearances from Obie Trice, 50 Cent, Nate Dogg and D-12.
Label: Shady/Aftermath/Interscope
Release date: 12 November 2004
Discs: 1 disc (Some versions come with a bonus CD)
Eminem Encore track listing
1.Curtains Up
2. Evil Deeds
3. Never Enough feat. 50 Cent and Nate Dogg
4. Yellow Brick Road
5. Like Toy Soldiers
6. Mosh
7. Puke
8. My 1st Single
9. Paul (skit)
10. Rain Man
11. Big Weenie
12. Em Calls Paul (skit)
13. Just Lose It
14. Ass Like That
15. Spend Some Time feat. Obie Trice, Stat Quo & 50 Cent
16. Mockingbird
17. Crazy In Love
18. One Shot 2 Shot feat. D-12
19. Final Thought (skit)
20. Encore (curtains) feat. Dr. Dre & 50 Cent

Bonus CD:
1. We As Americans
2. Love You More
3. Ricky Ticky Toc



Eminem Encore – Lyrics
Eminem Encore – Review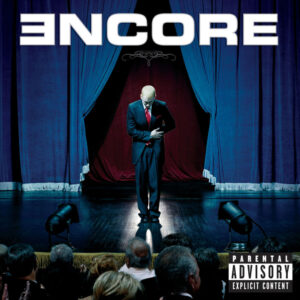 If you press play on Eminem's Encore looking for a bold new direction, you won't hear it. This is the Eminem you either love or distinctly dislike, the virtuoso of the street rhyme, still willing to be wickedly offensive. True to form, Eminem skewers Michael Jackson on the album's "Just Lose It, " and follows up with a humorous jab at Jackson in cuts sprinkled through the album.
And he is, as always, wildly irreverent. If profanity bothers you, don't listen to Encore (there is a "clean" version of the album, however thats pretty pointless as music loses much of it's meaning this way, plus if you have to buy a censored version, I'm guessing you don't like Eminem anyway). Im guessing, if it bothered you you wouldn't be on this site to begin with, so just go ahead and buy your copy of Encore 🙂
Yet while Encore is not a fresh new direction, it is Eminem at his prime. The rhymes are crisp, the grooves are deep and infectious, the sound of album is very much today — if he's not imagining a completely new course, he's definitely looking forward. Most importantly, Encore shows him to be at top form, still sounding like he's striving to create his best work. While some might argue that he went soft, I think it's quite brave of him to somewhat change the record and his old style that so far proved to be a huge success. Not many dare to do that so he's got my respect for it. Having that said, I'm still looking forward to hearing more from our good old Slim Shady, but until then – Encore will do just fine.
Encore From The Inside
"Yellow Brick Road" (number 4 track on the Encore) is Eminem at his most introspective and self-critical. He raps: "follow the yellow brick road / as we go on another episode / journey with me as I take you to the sniffy little place / that I once used to call home sweet home." Within a stream of consciousness profusion of rhymes, he criticizes himself for insulting a black schoolmate. "No matter what color a girl is / she still has a soul," he notes.
He's more than happy to pop his own bubble, as in "Big Weenie" : "I was going to say something extremely important / but I forgot who or what it was / it's like I'm kidding again."
As he raps on "Rain Man": "You find me offensive? / I find you offensive / for findin' me offensive…'cause it's getting expensive / being on the other side of the courtroom on the defensive." Then he goes on to mock homophobia, going on the offensive against those who might be offended. "When am I gonna come to my good senses? / probably the day Bush comes to my defenses."
And these are just a few lines from the Encore, the rest (with a few exceptions) are just as good.
No Revolution
His fourth studio album, Encore is full of tasty production touches. Like the synthesized Indian music riffs over the trance-like rhythm of "Ass Like That." Or the hyper-speed sample of an old Heart song on "Crazy On You." Encore also includes cameo appearances by 50 Cent, Obie Trice, Nate Dogg, and D-12.
None of this, of course, is going to revolutionize wither pop or hip-hop music the way some of his old albums have, or even give it a much needed fresh shot of creative energy. On the whole, Encore doesn't reach the level of inspiration of The Slim Shady LP or the Marshall Mathers LP, but is still a good buy for your buck. Eminem fans will definitely appreciate it and gladly add Encore to their collection.
Hands down, Encore is, in comparison to much of the disposable pop and hip-hop products on record store shelves, several steps above. Encore is the album of a true artist, in his prime, creating quality music.
Eminem Encore Album Cover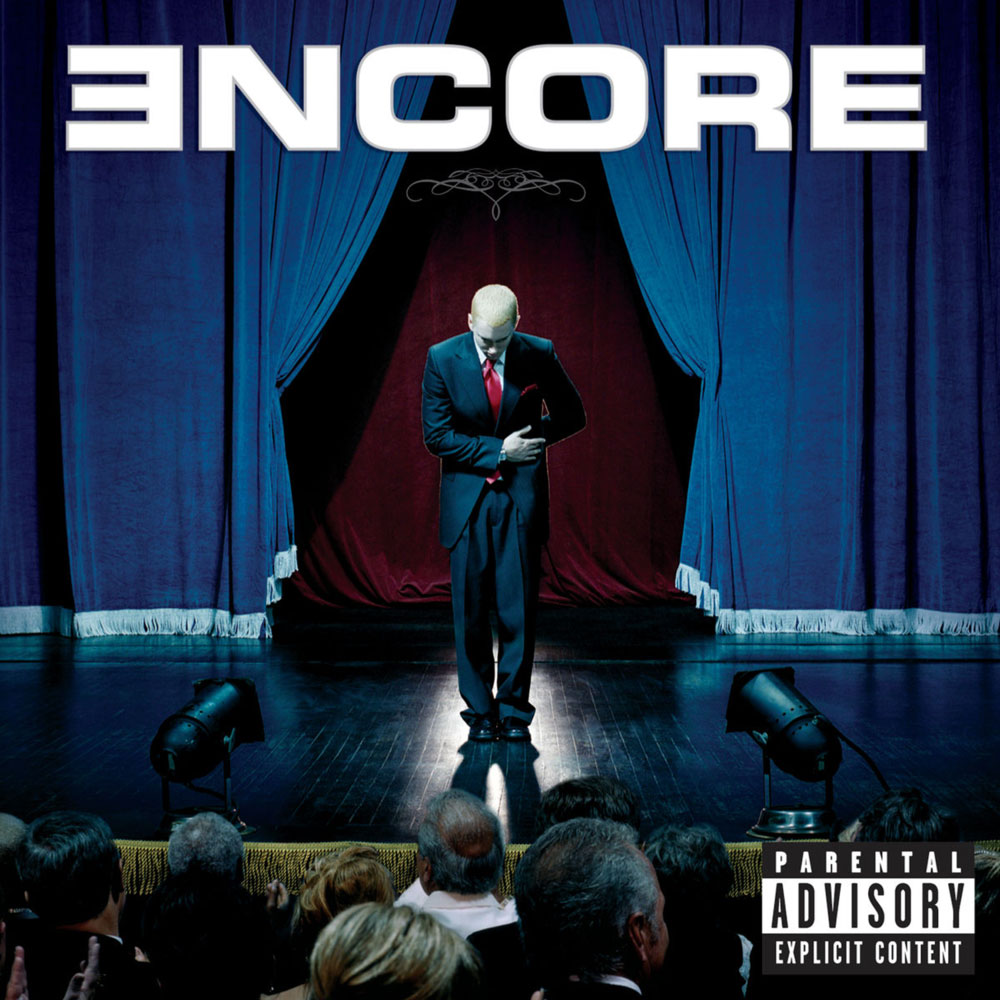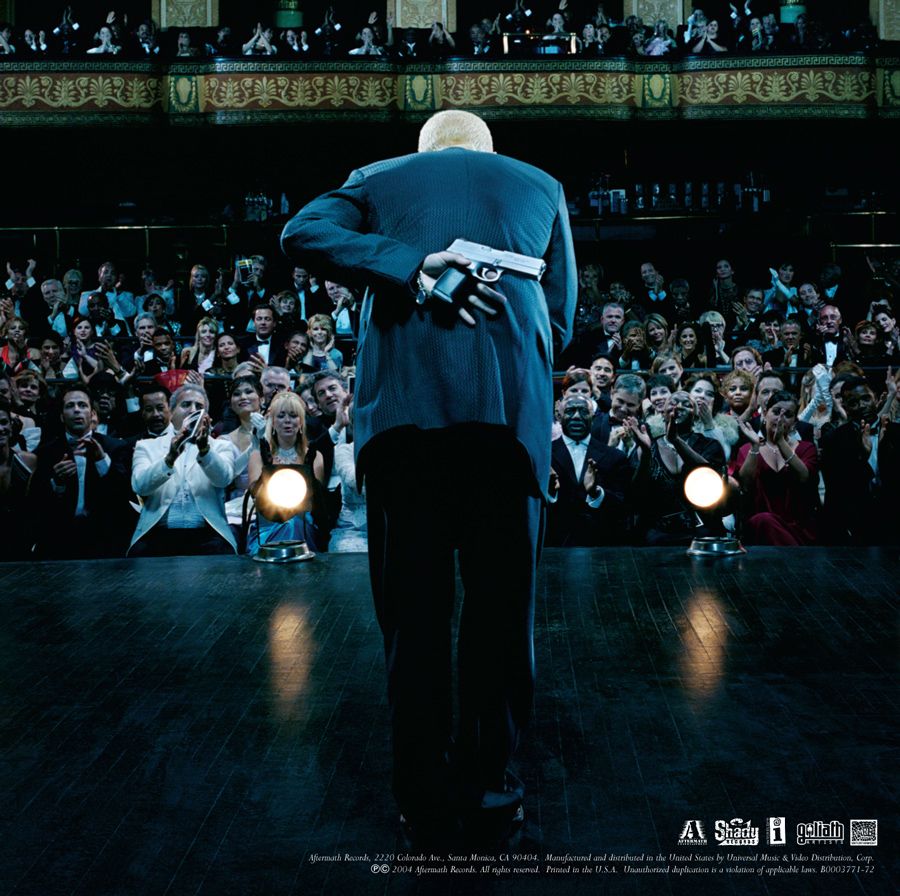 Critics about Encore
All critic scores are converted to a 100-point scale. If a critic didn't indicate a score, we assigned a score based on the general impression given by the text of the review. Some comments might seem a little harsh, however that's what critics do..
100 :: Village Voice (Consumer Guide) about Encore:
Funny, catchy, clever, and irreverent past his allotted time.
90 :: Uncut about Encore:
The standard is so consistently high, sides so conclusively split, even after six years' familiarity with his schtick, that genius is the word. [Jan 2005, p.116]
80 :: Blender about Encore:
With Encore, Eminem rediscovers his sense of play and lets it run naked and screaming across the stage. [Jan/Feb 2005, p.100]
80 :: RapReviews.com about Encore:
His verses sound lazy and unfocused… Nevertheless, "Encore" does prove one thing: that even half-trying, Eminem is still better than most of the rappers beside him with plenty of personality to spare.
80 :: Rolling Stone about Encore:
Encore isn't as astonishing as The Marshall Mathers LP. Few albums by anyone ever will be. But in the time-honored manner of mature work, it showcases a phenomenally gifted musician and lyricist doing all the things he does best.
75 :: E! Online about Encore:
His scattershot approach at taking on everyone and everything gets a wee tiresome after a while.
75 :: Los Angeles Times about Encore:
The album has a familiar shortcoming: Once again, Eminem is guilty of not knowing when to stop in the studio. [8 Nov 2004]
75 :: Spin about Encore:
It includes some of the most thoughtful music of Eminem's career, and some of the butt-stupidest, and while there's a lot to like about both, the album feels transitional and muddled. [Jan 2005, p.95]
70 :: The Onion (AV Club) about Encore:
For the most part, Encore's strained, vaguely sad, regressive wackiness makes a lucid and compelling argument that Eminem should retire Slim Shady and let the real, serious Marshall Mathers stand up and be heard.
70 :: PopMatters about Encore:
It's true that Encore represents a drop-off in lyrical attention to detail from Mathers, and even 2002's The Eminem Show. But Mr. Shady is still the best MC on the planet, and Encore is still a lyrical tour de force, even if there's not as much de force as on previous records.
70 :: New Musical Express about Encore:
The pedestrian half of 'Encore' only serves to underline how awesome the other half is. [20 Nov 2004, p.53]
65 :: Pitchfork about Encore:
Encore is a fourth fascinating record from Eminem, but it's also easily his weakest and, in many ways, tamest album to date.
60 :: All Music Guide about Encore:
Encore never resonates the way his first three endlessly fascinating albums do.
60 :: Mojo about Encore:
An awkward faceoff between Mathers the prankster and Mathers the cultural and would-be political agitator. [Jan 2005, p.96]
60 :: Q Magazine about Encore:
So, does it match expectations? No. [Jan 2005, p.122]
52 :: cokemachineglow about Encore:
While the best of it is good enough to promise a fruitful and substantive future, the worst of it suggests that in a few years time, Mr. Mathers may be little beyond a slightly intimidating class clown.
50 :: Dot Music about Encore:
You'd believe this was a "Weird Al" Jankovic record had you tuned in halfway through.
50 :: The New York Times about Encore:
"Encore" is almost willfully uneven: it includes some of the most exhilarating songs Eminem has ever recorded, alongside some of the most inert. [15 Nov 2004]
50 :: The Guardian about Encore:
Often, he sounds bored, as if he's going through the motions. The flat and repetitive music follows suit – even Dr Dre's production lacks its usual inventive spark.
50 :: Billboard about Encore:
Here, there are moments when he entertains us and other times when he doesn't.