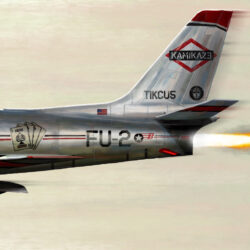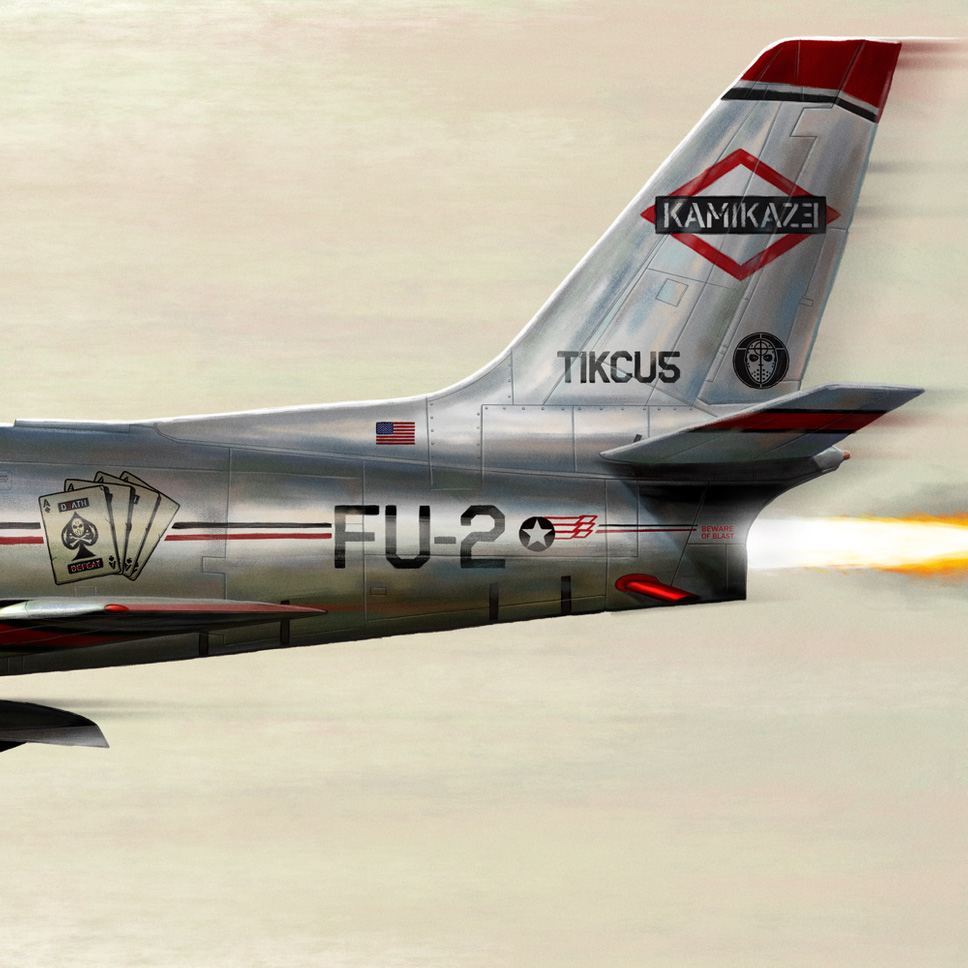 Kamikaze (stylized as KAMIKAZƎ) is the tenth studio album by Eminem, released on August 31, 2018, through Aftermath Entertainment, Shady Records, and Interscope Records. It was released without any promotion or pre-announcement following the polarizing reaction of his previous 2017 album Revival, making it his second full-length studio album in 8 months.
The Kamikaze album features guest appearances from Joyner Lucas, Royce da 5'9″, Jessie Reyez, and uncredited vocals by Justin Vernon. Eminem, credited as Slim Shady, and Dr. Dre served as executive producers, while production for individual tracks comes from a variety of musicians.
Label: Shady Records/Aftermath/Interscope
Release date: 31 August 2018
Discs: 1
A surprise album
In a four-part video interview series with Sway Calloway he laid out the reason for releasing the album unannounced:
"When you go into an album, you can go into anything with the mindset of, 'This is gonna suck.' I feel like giving them no warning was the best thing to do. When the Revival track list came down the pipe, it was like overwhelmingly, 'This shit is going to be trash.' Nobody really wanted to be wrong about it. I'm not saying everybody, but a lot of people had already formed their opinion,"
implying that people have already decided Revival sucked, off of the track list and who he featured on it alone, before even having a chance to listen to any of the music, and once their mind was made about it, it was hard for it to change.
Eminem: Kamikaze track listing
| | | | |
| --- | --- | --- | --- |
| # | Title | Producer(s) | Length |
| 1. | "The Ringer" | Illa da Producer, Ronny J, Eminem | 5:37 |
| 2. | "Greatest" | Mike Will Made It, Jeremy Miller | 3:46 |
| 3. | "Lucky You" (featuring Joyner Lucas) | Boi-1da, Illa da Producer, Eminem, Jahaan Sweet | 4:04 |
| 4. | "Paul" (Skit) (performed by Paul Rosenberg) | Eminem | 0:35 |
| 5. | "Normal" | Swish Allnet, Illa da Producer, LoneStarrMuzik, S1 | 3:42 |
| 6. | "Em Calls Paul" (Skit) | Eminem | 0:49 |
| 7. | "Stepping Stone" | Eminem, Luis Resto | 5:09 |
| 8. | "Not Alike" (featuring Royce da 5'9″) | Eminem, Tay Keith, Ronny J | 4:48 |
| 9. | "Kamikaze" | Eminem, Suby | 3:36 |
| 10. | "Fall" | Mike Will Made It, Eminem | 4:22 |
| 11. | "Nice Guy" (with Jessie Reyez) | Fred Ball, S1, Eminem | 2:30 |
| 12. | "Good Guy" (featuring Jessie Reyez) | Eminem, Illa da Producer | 2:22 |
| 13. | "Venom" (Music from the Motion Picture) | Eminem, Luis Resto | 4:29 |
| | | Total length: | 45:49 |
Album release announcements
Eminem Kamikaze album cover
The Kamikaze album artwork was done by Mike Saputo, an artist from Detroit, Michigan, Eminem's hometown. The full album cover, front to back, features fighter pilot LT. Mathers III (Eminem) intentionally crashing an F-86 Sabre fighter jet into an unknown object. The front cover art is the back section of the plane that Saputo designed, while the back cover is the front section of the same plane.
Front cover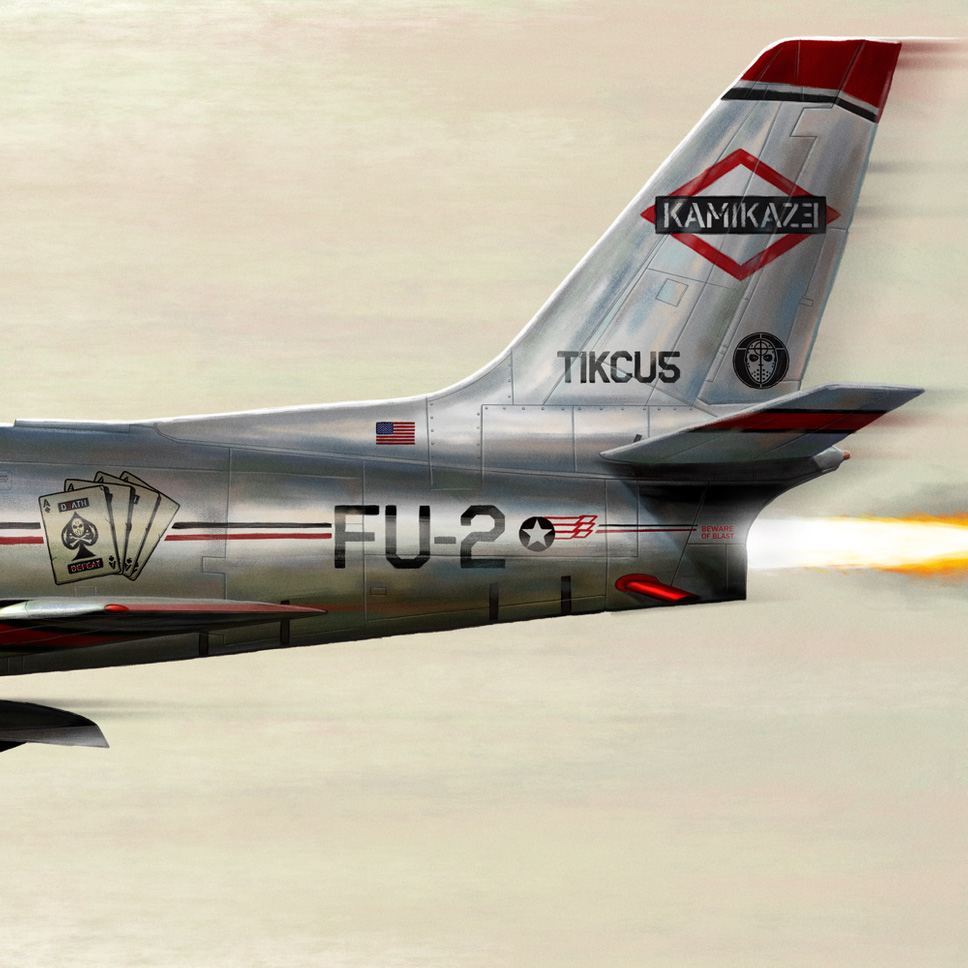 Back cover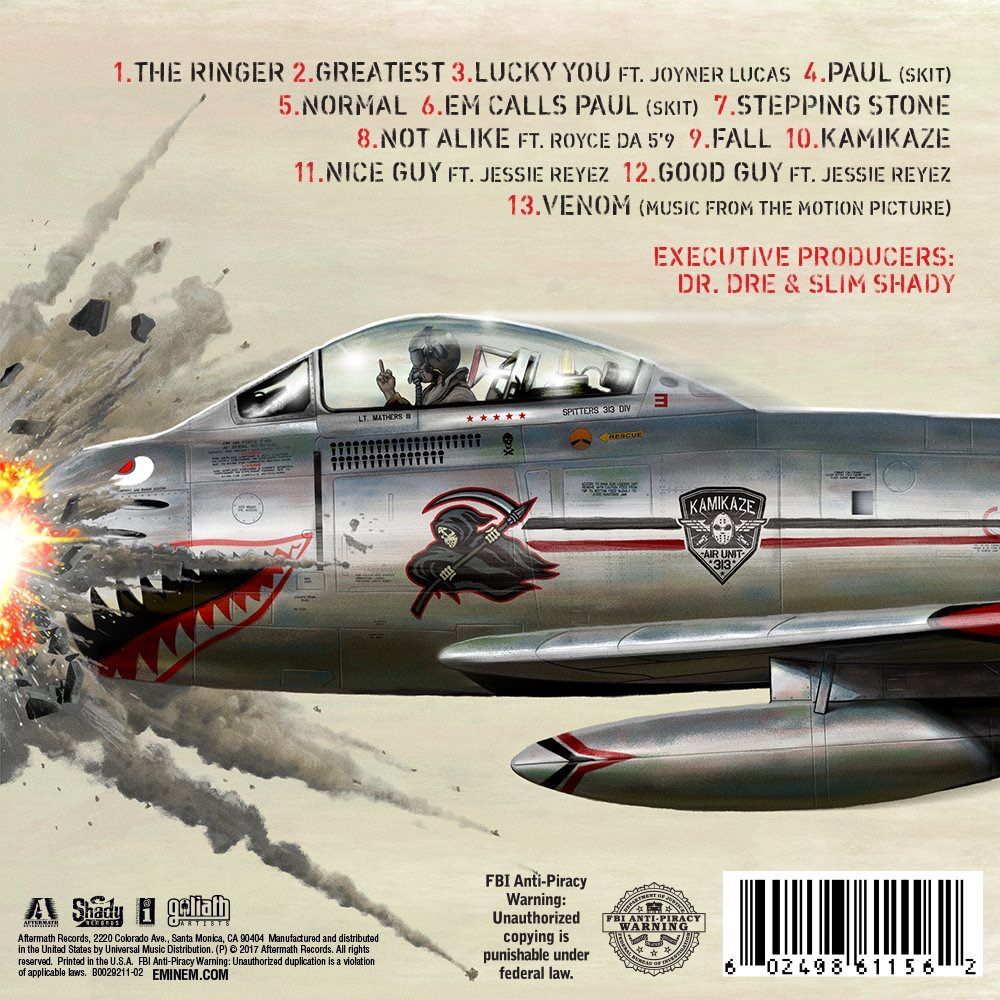 Vinyl release
Kamikaze front and back covers combined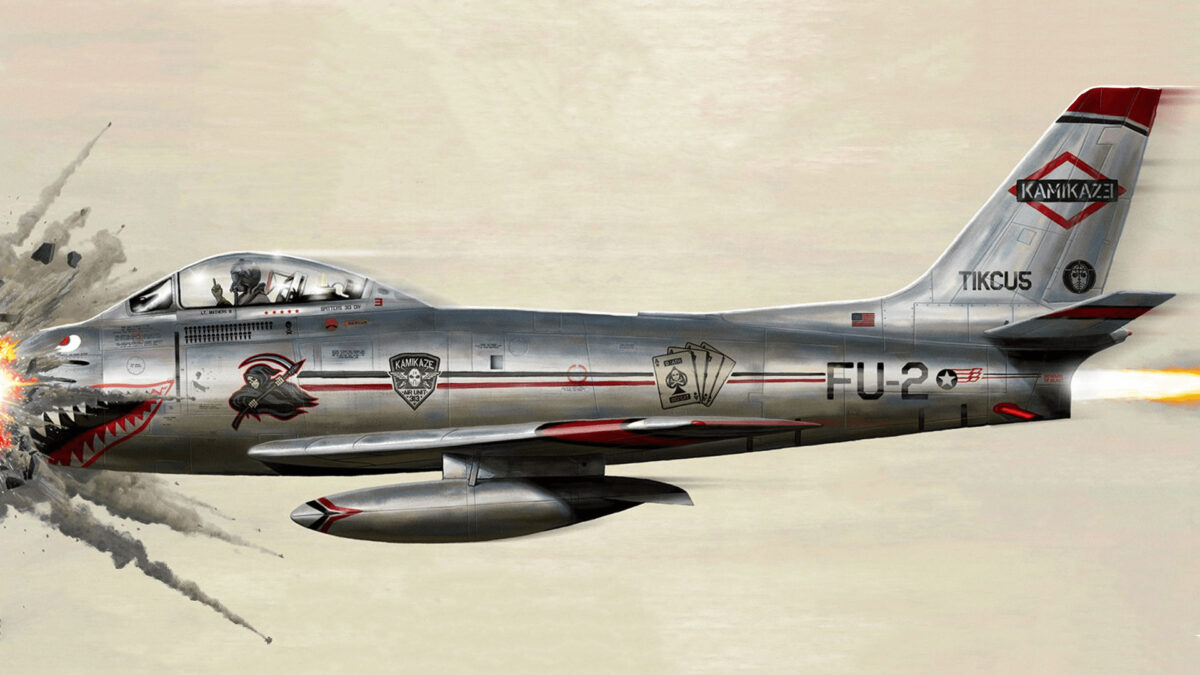 About Kamikaze album cover and art
Homage to Beastie Boys debut studio album 'Licensed to Ill'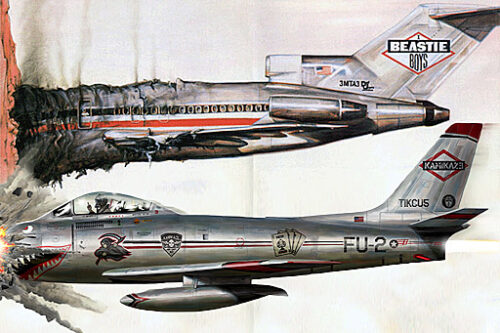 The Kamikaze album cover is a reference / homage to the Beastie Boys 1986 debut studio album, Licensed to Ill. He has been citing Beastie Boys as an inspiration for years, but did not give the band any prior consultation for the cover homage. Like Eminem's December 2017 album Revival, Licensed to Ill was executive-produced by the legendary Rick Rubin.
Comparison – Kamikaze vs Licensed to Ill cover and album art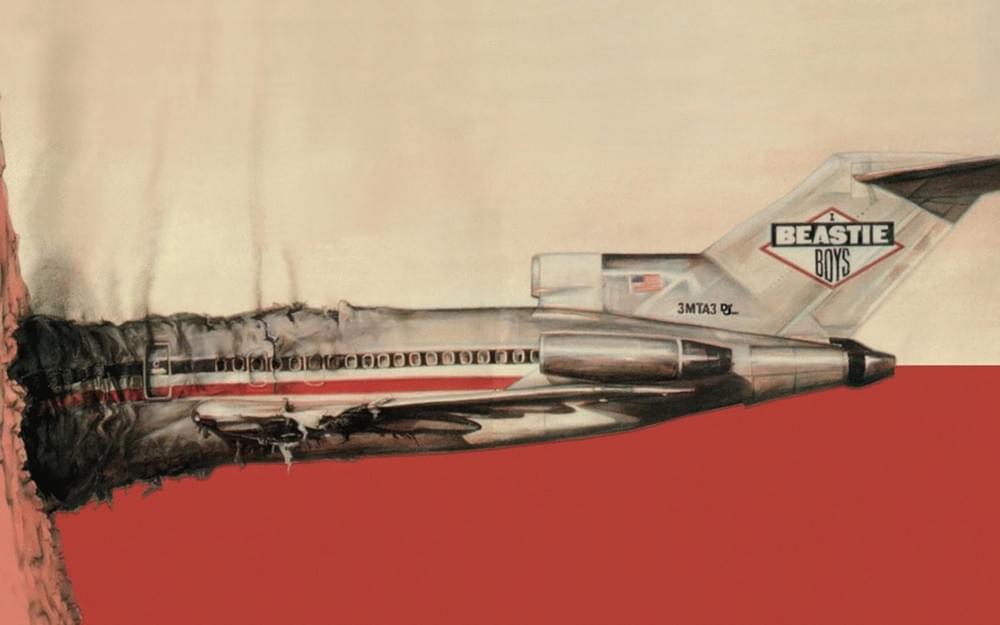 Front cover comparison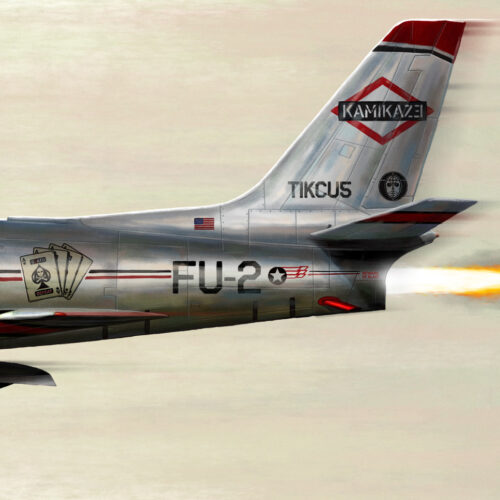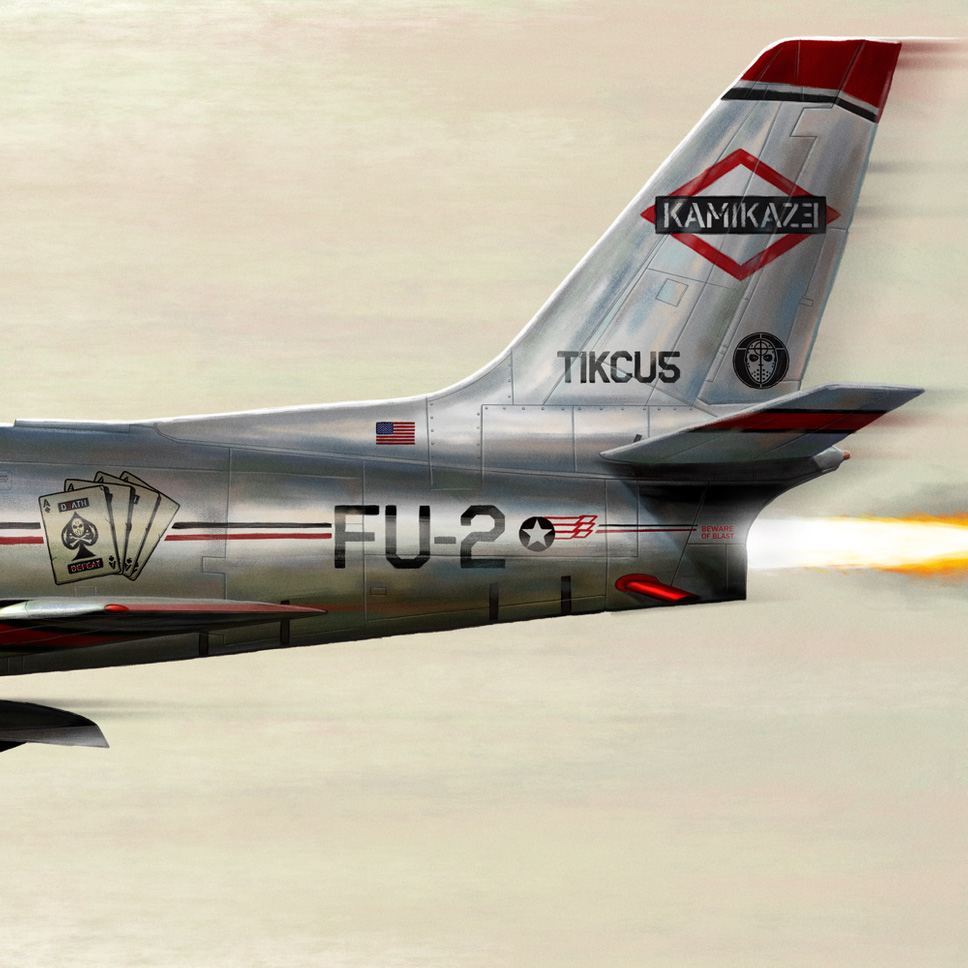 On the Beastie Boy's Licensed to Ill cover, "3MTA3" is displayed on the side of the plane; when reversed, it reads "Eat Me." Eminem recreates this in the same manner, but with his own little twist by putting "TIKCU5" on the side of the plane, which reversed, reads "Suck It." Eminem's trademark backward Ǝ is integrated into the cover in the word "Kamikaze," in place of where "Beastie Boys" was on the Licensed to Ill cover. "FU-2" (short for "fuck you too") is written on the plane as well, though it does not appear on the "original" cover.
Though not necessarily, seeing as such designs were common on the planes of that era, and in general, the star with the banners next to "FU-2" and the American flag above it could be subtle references to Revival. The promotional images and cover art for that album are based on the American flag. The critics were, well, rather critical of it too, hence the FU-2 would seem fitting.
The Licensed to Ill cover includes Def Jam's logo, the record label that the Beastie Boys were signed to at the time of the album's release (1986), while Eminem includes a hockey mask on his cover representing his Shady Records.
Back cover analysis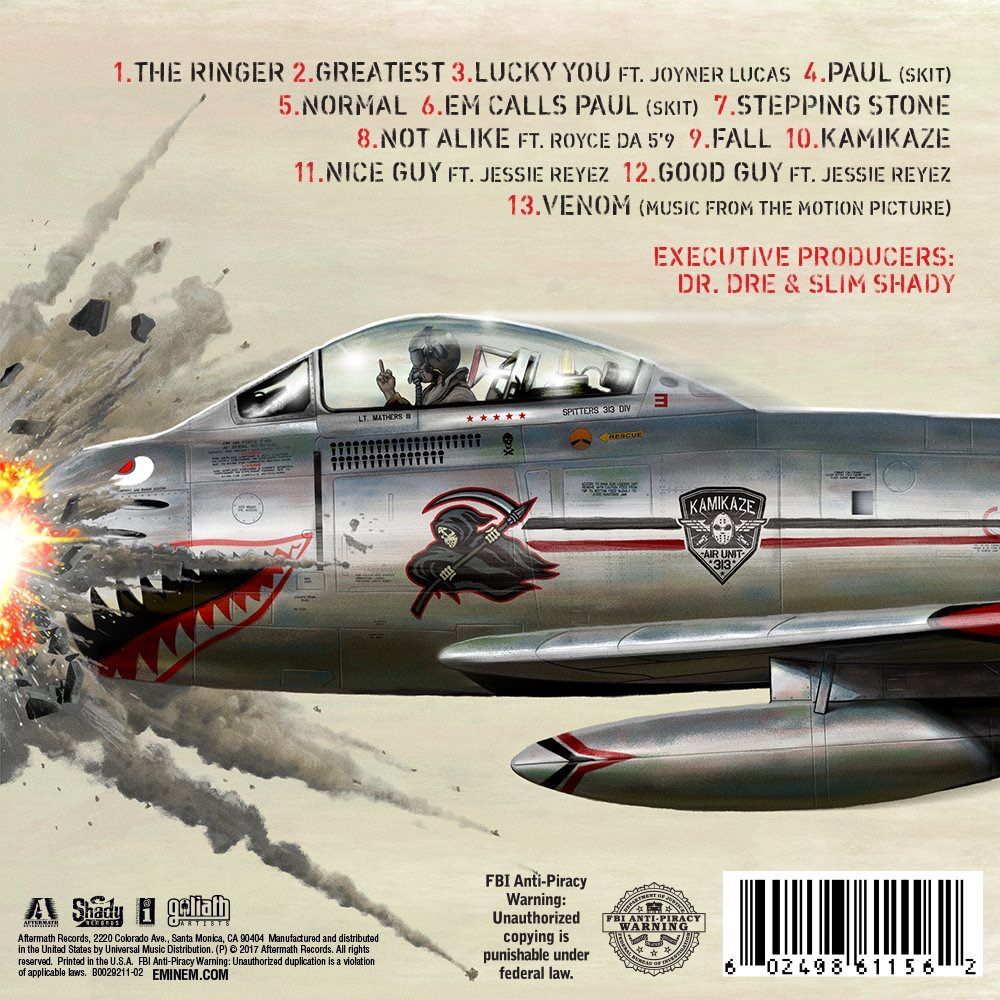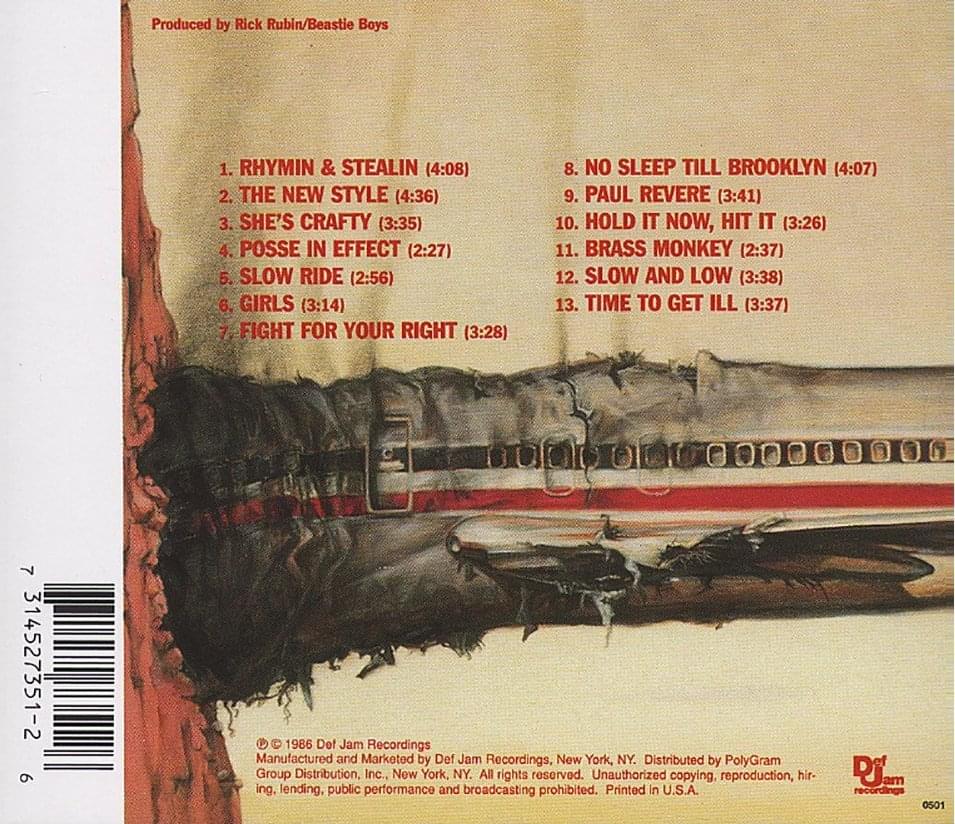 The number 313, which appears twice on the "Kamikaze" plane (see "SPITTERS 313 DIV" and "KAMIKAZE AIR UNIT 313"), is a reference to Detroit's area code.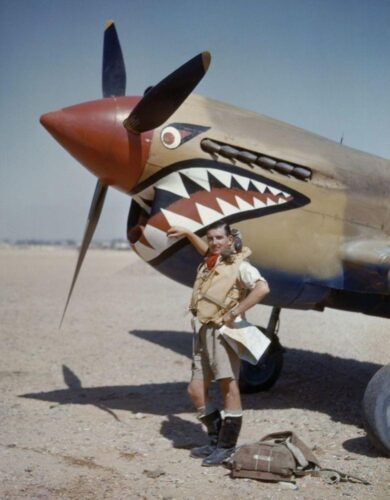 The shark design on the nose of Eminem's plane is a reference to a design most famously used by, but not limited to, the No. 112 Squadron (a.k.a "The Shark Squadron") of the Royal Air Force during World War II.
What do critics have to say about Kamikaze?
Kamikaze received generally mixed reviews from critics. Some praised it as an improvement over Eminem's previous album and a welcome return to the sound of his earlier, more aggressive material, while others criticized its lack of adaption to the current sound of hip hop (and as a result, found it outdated), as if sounding like the rest is what an artist should strive for.
Here is Eminem's hilarious Twitter response to the critics (expand to see the full picture).
Here are some of the comments by the critics:
Aja Romano of Vox called the album Eminem's best in years, citing a return to the rapper's old school sound after deviating with Revival.
Ed Power of The Daily Telegraph also compared this album to Revival, calling Kamikaze a "high-kicking, low-punching riposte", indicating it is a better release.
Similarly, A. D. Amorosi of Variety sees the album as similar to Eminem's earlier work, stating, "[his] voice hasn't sounded quite so cranky, silly, impassioned or enraged since his early days"
For XXL, Scott Glaysher calls the album a revisit of the Slim Shady persona.
For Consequence of Sound, Dedrick Hendrix gave the album a B−, summing up, "As a whole, the album may not be impeccable, but it's the best he's released since 2010."
M. Oliver of PopMatters summed up his review, "Kamikaze is Slim Shady at his midlife best; slightly less deviant, not quite as funny—but revived, nonetheless" and gave the album seven out of 10.
Kitty Empire wrote for The Observer that Eminem is in "full rabid underdog mode" at a time when hip hop MCs are more relaxed, giving the album three out of five stars.
At HipHopDX, Trent Clark gave the album a 3.9 out of five, contrasting the work with Revival and denying this is a return to form, summing up, "After being faced with nothing to prove as the highest-selling rapper of all-time, Eminem's found another challenge in perfecting the new style he's put on display".
Writing for Vice, Robert Christgau regarded the album as being "about hip-hop, his truest passion and sole area of undeniable expertise, rather than the larger emotional and political themes of what he conceived as a groundbreaking statement of principle [with Revival]".
In The Atlantic, Spencer Kornhaber addresses both comparisons with Revival and current hip hop stars on Kamikaze stating, "Really, though, Eminem is waging a war over aesthetics, and Kamikaze is a better listen than Revival because its concision confirms Eminem's value as an entertainer… Certainly, it's refreshing that in a genre especially obsessed with statements of dominance, Eminem doesn't disguise his feelings of irrelevance. He does, however, try to claim his influence." He added that the album shows that "Eminem is great at what he does."
For Uproxx, Aaron Williams also praised Eminem's technical abilities and also pointed out the function of engage with his critics that this music performs.
Eminem Kamikaze pictures
Soon.