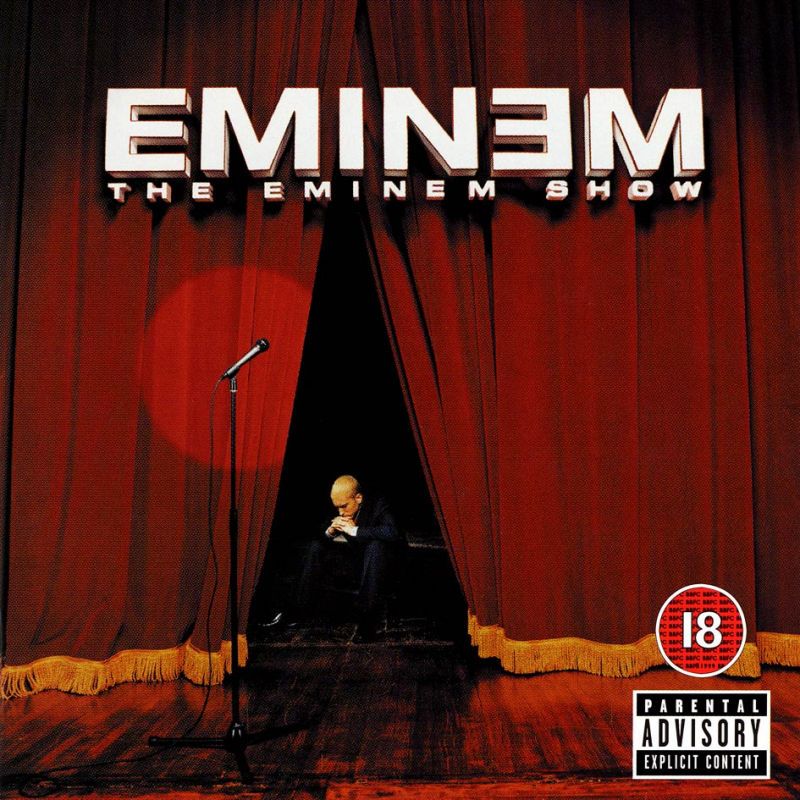 The Eminem Show is the fourth studio album by Eminem. After it had originally scheduled for release on June 4, 2002, the album was released on May 26, 2002, by Aftermath Entertainment, Shady Records, and Interscope Records due to heavy pirating and bootlegging.
The album saw Eminem take a substantially more predominant production role; most of it was self-produced, with his longtime collaborator Jeff Bass, and Dr. Dre being the album's executive producer. It features guest appearances from Obie Trice, D12, Dr. Dre, Nate Dogg, Dina Rae and Eminem's daughter Hailie Jade.
Label: Shady Records/Aftermath/Interscope
Release date: 26 May 2002
Discs: 1
More about The Eminem Show
In Eminem's third album under Aftermath / Interscope "The Eminem Show", which was bootlegged so heavily that his record company had to move the release date forward, Eminem strips his personal life bare for the benefit of his fans. The beginning is a mite bit predictable as it's the third time in a row that he's begun his rap tirade with a skit. This time it's a sound of curtains opening up, followed by footsteps crossing a wooden stage, then a finger tapping a microphone, slight feedback, and finally Eminem clearing his throat. Then it's straight into what may very well be his first politically (albeit it's more sociologically slanted) charged endeavor, "White America." The track resonates with a dark, ominous tinge and not surprisingly it's produced by Eminem himself. Eminem's sonic efforts on The Marshall Mathers LP only hinted at the thundering, downright scary aural tactics he employs here. While the beat fits perfectly with Eminem's vitriolic spew, it seems to be leaning toward the over saturated rap/rock aesthetic that dominated not only the charts, but the minds of the youth of America in 2002.
From these auspicious beginnings of The Eminem Show, things jump off straight into pop terrain with the uber hit "Business". Dre delivers a chunky funk gurgle that pulses and pounds with primal simplicity. It's pretty routine, yet thick and inescapably catchy. Production is stellar, but it's not pushing either Eminem or Dre's talents to the limits (it actually sees Dre ripping himself off by regurgitating the chainsaw cross channel effects from 2000's "Kill You."). Still, it's one of those tracks that you love to hate.
Dre manages to squeeze in two tracks toward the end of the album. The first, "Say What You Say," is dark and ominous, thus keeping in tune with the vibe that Em has instilled throughout the course of the 20 tracks on this effort. For "My Dad's Gone Crazy" Dre mixes faux harp plucks to create a whimsical backdrop to Em's bugged out verbal spaz attack. It's pretty much the most damn near brilliant moment on the album. Especially when little Hallie cuts in with her over-the-top "I think my dad's gone crazy."
The rest of the tracks from The Eminem Show will be reviewed shortly.
As far as the album as a whole goes, the title says it all – The Eminem Show. First time around, Eminem established his alter-ego, Slim Shady — the character who deliberately shocked and offended millions, turning Eminem into a world-wide star. Second time at bat, he delivered The Marshall Mathers LP, going deeper into his past while revealing complexity as an artist and a personality that helped bring him an even greater audience and much, much more controversy. Third time around (not counting Infinite and The Slim Shady EP), it's The Eminem Show — a title that suggests that Eminem's public persona is front and center, for the very first time. And it is, as he spends much of the album commenting on the media circus that dominated on his life ever since the release of Marshall Mathers. Eminem's lyrics are never short of caustic. He sums up the story of his success on the musically inept, but verbally cutting 'White America' – "Lets do the math, if I was black, I would have sold half". This, of course, encompasses many, many familiar subjects — his troubled childhood; his hatred of his parents; his infamous relationship with his ex-wife, Kim (including the notorious incident when he assaulted a guy who allegedly kissed her); his love of his daughter, Hailie; and, of course, all the controversy he generated, notably the furor over his alleged homophobia and his scolding from Lynne Cheney, which leads to furious criticism about the hypocrisy of America and its government.
To his credit, he has refused to pretend to live some invented gangster streetlife, but the rappings of success and notoriety are sterile inspirations for hip-hop wordplay.
" Never was a thug, just infatuated with guns
Never was a gangster, 'til I graduated to one
And got the rep of a villian, for weapon consealin'
Took the image of a thug kept shit appealing "

— Eminem lyrics is Soldier, The Eminem Show
All this is wrapped together with a production very similar to that of its predecessor — spare, funky, fluid, and vibrant, punctuated with a couple of ballads along the way. So, that means The Eminem Show is essentially a holding pattern, but it's a glorious one nonetheless — one that proves Eminem is the gold standard in pop and hip-hop music, delivering stylish, catchy, dense, funny, political music that rarely panders (apart from a power ballad "Dream On" rewrite on "Sing for the Moment" and maybe the sex rap "Drips," that is). Even if there is little new ground broken, the presentation is exceptional — Dre never sounds better as a producer than when Eminem pushes him forward (witness the stunning oddity "Square Dance," a left-field classic with an ominous waltz beat) and, with three albums under his belt, Eminem has proven himself to be one of the all-time classic MCs, surprising as much with his delivery as with the lyrics (we might as well call it »shock and awe« tactics).
Furthermore, the undercurrent of political anger — not just attacking Lynne Cheney, but raising questions about the Bush administration — gives depth to his typical topics, adding a new, spirited dimension to his shock tactics as notable as the deep sentimental streak he reveals on his odes to his daughter. While a typical complaint about modern hip-hop records is that they run too long, The Eminem Show with it's 20 songs and 80 minutes of play doesn't get boring nor repetitive any time soon. Fact is, The Eminem Show delivers more great music than most of its peers in rock or rap, and is further proof that Eminem is an unique artist of considerable range and dimension that is not to be taken lightly.
Love him or hate him, Eminem makes no apologies, and THE EMINEM SHOW is as strong a statement as he's made to date.
Eminem – The Eminem Show Lyrics
The Eminem Show – Lyrics
Eminem – Lyrics
Eminem – The Eminem Show Album Cover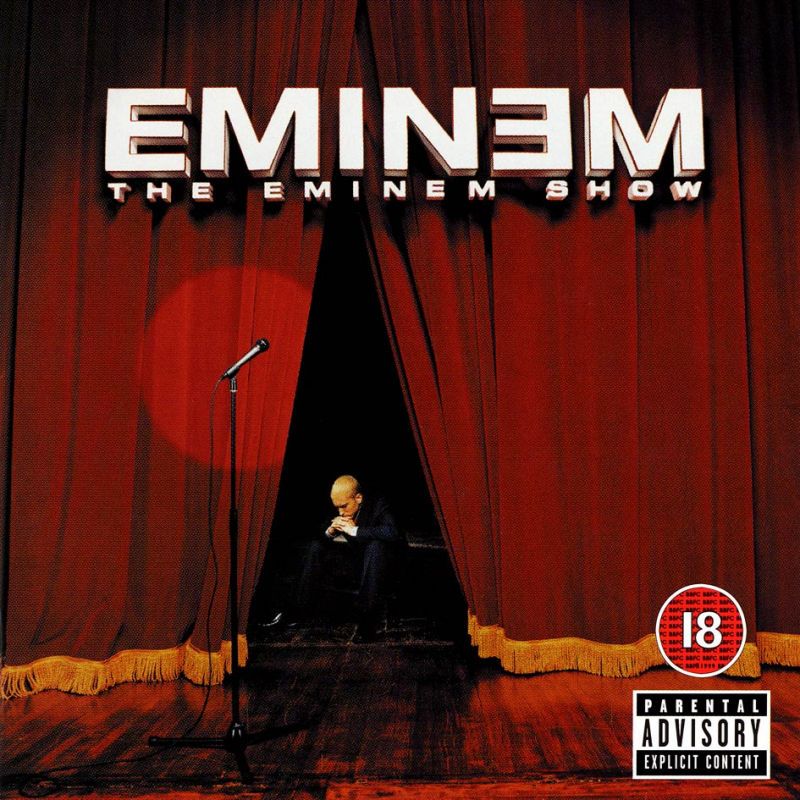 The Eminem Show – Critics and comments
Rolling Stone (12/26/02, p.106) – Included in Rolling Stone's "50 Best Albums of 2002"
Spin (1/03, p.70) – Ranked #5 on Spin's list of 2002's "Albums of the Year" –
"…On his fourth album [The Eminem Show], Eminem reflects and shows some real vulnerability, flipping in a blink from evil, sexist drip to sympathetic daddy/son to media-mad trickster."
Q (12/02, p.66) – Included in Q Magazine's "50 Best Albums of 2002"
Uncut (1/03, p.95) – Ranked #19 in Uncut's "100 Best Albums of the Year"
Rolling Stone (7/11/02, pp.107-8) – 4 stars out of 5 – "…[The Eminem Show] may be the best rap-rock album in history….THE EMINEM SHOW has the self-assurance of an artist at the top of his game and 'the' game…"
Vibe (8/02, pp.155-6) – 4 out of 5 – "…[The] capacity to mix social commentary and self-parody and turn the whole thing into an amazing record is what makes Eminem so interesting…"
NME (6/1/02, p.36) – 9 out of 10 – "…A more personal, vulnerable, even-gulp!-mature artistic vision….SHOW is bigger, bolder and far more consistent than its predecessors…introspective without being self-pitying, expansive in scope without being pompous, exploring new directions without disappearing up its own arse. Its genius is mighty. It's the greatest 'Show' on earth." about The Eminem Show.
Uncut (8/02, p.118) – 3 out of 5 – "…As ever the wit is razor sharp….He's still baring enough of his soul for THE EMINEM SHOW to be compelling theatre."
Entertainment Weekly (6/7/02, pp.73-4) – "…Eminem reveals the supposedly real Marshall: embattled entertainer, fervent defender of the First Amendment, and yes, devoted father…like a therapy session in which the shrink becomes a human beatbox…" – Rating: B
CMJ (6/24/02, p.4) – "…Jam-packed with the same vitriol that made Eminem a household name to begin with…"