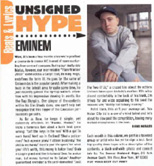 March of ninety-eight The Source magazine featured a then unknown Detroit-based rapper in their influential "Unsigned Hype" column. His name was Eminem. From the outskirts of the one time U.S. Murder Capital, rap's new brainchild was just beginning to garner the critical appeal and acclaim that the years ahead would bring. Coming off as a sick and twisted lunatic with a passion for the art, Slim Shady seemed to be just what the rap mainstream needed; and The Source had hit the nail on the head. From the near-repulsive humor of "'97 Bonnie and Clyde", to the fictional burglary tales of "Murder, Murder", the quality of the Slim Shady EP was a force to behold.
Pre-peroxide, Marshall Mathers was becoming an underground favorite and a fierce emcee. Mathers was off to an L.A. wake up show with nothing more than his genius and machete for a tongue. That was the crucial moment when rap's greatest producer, Dr. Dre, got his first taste of Eminem. A call made and a contract signed, Eminem headed into the studio with the Doc. Em was decked out in a loud yellow suit, but the impressive lyrics and delivery ("Role Model" and "My Name Is" were made in a mere hour) are what caught Dre's attention.
Four years, five Grammy awards, a handful of lawsuits, and over twenty million albums sold, the now bottle blonde Dre protege has become one of the biggest and most talked about artist in the world. The critical acclamation as come in all forms, from the pages of Rolling Stone to some of his most famous musical peers (Elton John, Johnny Cash, Stevie Wonder, Madonna, Pat Boone, and even a praise from Bob Dylan). He is considered one of the most controversial and important voices of Generation Y, and has the talent to rein him the King of Controversy for years to come.

Below, you will also find the "Unsigned Hype" for another emcee from Motown, Proof. He's known Eminem since his early high school days and is best known for his vicious freestyle battles and numerous collaborations (appeared on more than twenty albums). Since the Hype went out in ninety-nine, Proof has then gotten deals from Tommy Boy, gone on as hype-man for Eminem's Slim Shady Tour and Dre's Up In Smoke Tour, and even to the stage of the 2000 MTV Video Music Awards where he was the echo on the "Way I Am". Proof was one of the founding members for the now multi-platinum D12, and a solo project is in the works with a new signed deal and lots of time in the studio.
Eminem and Proof Unsigned Hype articles: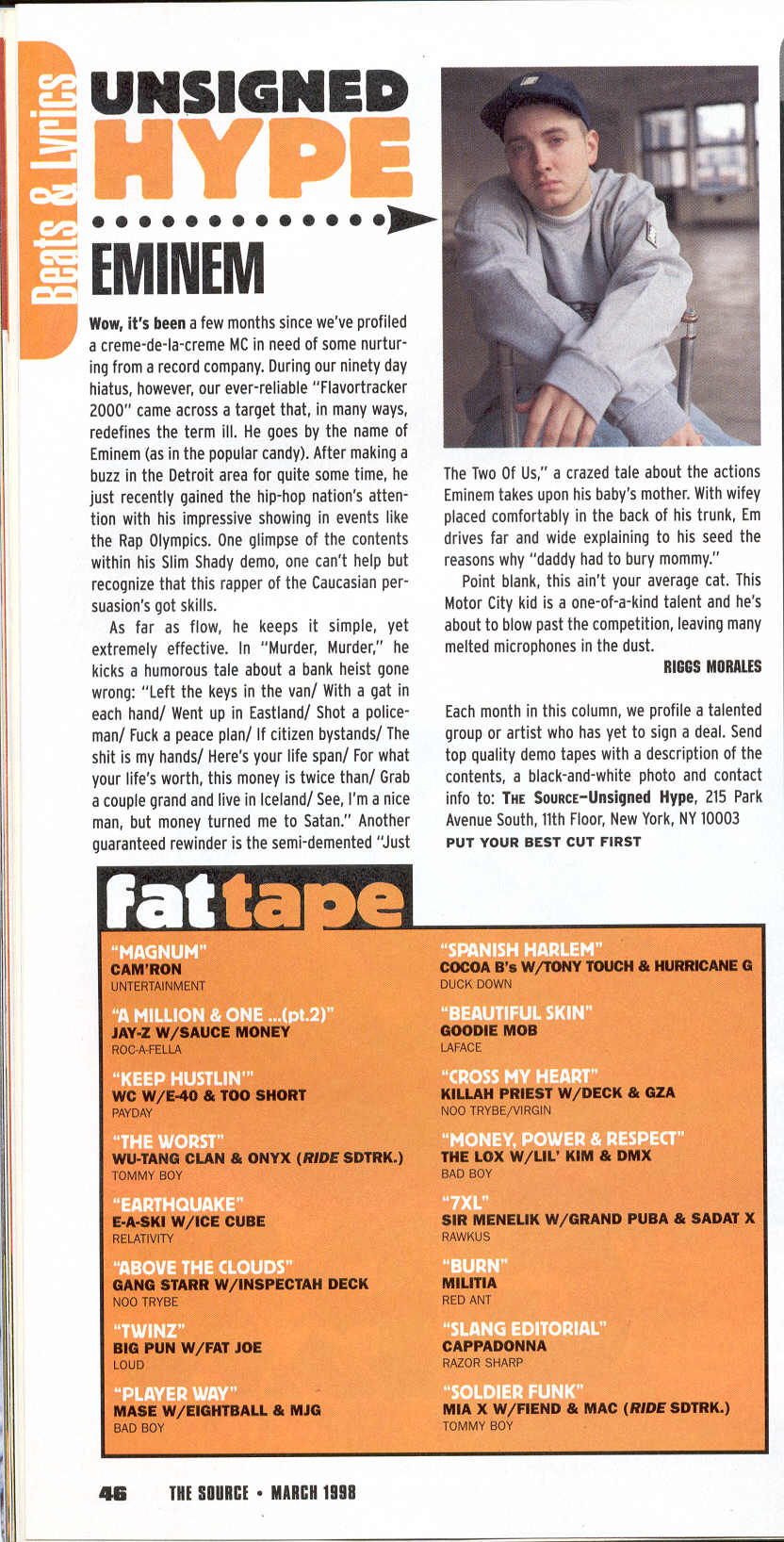 The Source: Unsigned Hype – Articles above